Providing Solar Roofing to the Southern California Area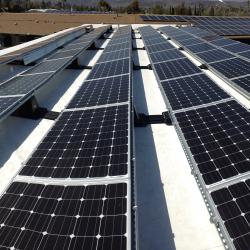 With emerging technologies and rising energy costs considered, solar power is increasingly becoming a logical and financially sound investment option. Often times it makes perfect sense to utilize the roof space on your commercial or industrial building, which is other wise wasted square footage, by installing solar panels that will save or even earn you money. There is really no better option for your extra roof top space than by using it to implement a low maintenance, positive return investment. In a system which we and our associates have developed down to a science, we will make sure your roof is ready for the burden of a solar system, we will oversee the smooth installation process of your system, and we will leave you with worry-free energy savings for years to come. The system will be out of sight on your roof deck where you may almost forget about it, until your energy bill arrives!
Our Projects
Yucaipa, CA
This basic gable style roof in Yucaipa, Ca, which initially had only a small number of protrusions, was made into a roofer's nightmare when over 60 additional penetrations were added for solar panel stanchions. The roofing under-layment was fastened to the deck while special care was taken to note the location of the trusses below the roof deck. Then, the panel stanchions were lag-bolted into place on top of the under-layment. From this point it was up to the roofers to navigate the field of stanchions and complete the community center building in time for the solar installation. The panels arrived, the electrical system was piped to the roof and the project was completed on schedule. As you can see, all went smoothly while the building is now fit with a new 20 year roof and a solar system which will continue to save them money for the duration of the roofs life.