Providing Commercial and Industrial Roofing to the Southern California Area for More Than 50 Years
Skycraft Roofing Inc. specializes in handling the roofing needs of ALL commercial and industrial buildings. We have been assuring property owners of leak-free warehouses, office buildings, and retail centers for over a ½ Century. We understand tenants need not be inconvenienced by our presence and that the faster we succeed at our job the faster YOUR business can get back to running on all cylinders. Skycraft Roofing Inc. has the experience, know-how, man power and motivation to seamlessly handle your roofing issue, without the head-aches.
A building must be purposefully examined to determine what specific demands the roof will be required to handle. Will there be heavy foot traffic to service equipment or for other reasons? Will Title 24 compliance be necessary for air conditioned areas in the building? What building, fire and wind codes are applicable for the city and county? We have the ability to present you with a number of different roofing system options, one of which will be perfect to address the specific characteristics and functionality of your building.
Our Projects
Cypress Land Company
Cypress Land Company decided to revamp their large, worn out, 100,000+ sq. ft. roof while they were in between tenant occupation. A Spray Coating System was chosen to recover the current Built-Up Roof installed by Skycraft Roofing Inc. over 20 years ago. The roof had very little tough detail built into it but was dotted consistently with over 100 skylights, which we replaced and roofed in as part of the job. Protecting the newly installed skylights was a chore in itself which consisted of wrapping any and all within range of where we would be spraying that day. With little traffic to the warehouse and offices we were able to position our emulsion and coating tankers in opportune areas on the ground to reach all corners of the roof. At the end of the 4 week project Skycraft Roofing Inc. walked away from a naturally lit, Title 24 certified, and energy efficient building, all thanks to the roof!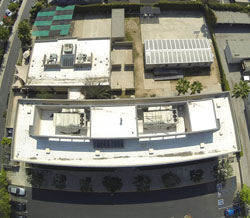 Pacific Medical Center
Medical facilities often provide a unique set of guidelines to follow on a re-roofing project. With the Pacific Medical Center, noxious smells and fumes were ruled out from the beginning for this 12,000+ sq ft. project. Once it was clear a low-impact roofing system was desired the owner was excited about our Single-Ply system and was 100% sold on it after learning about the 20 yr. No Dollar Limit warranty which we offered him. The 4-story structure was loaded, started, and completed without a snag. A big thanks goes out to the employees and patients who were cheerful and accepting of our brief daily movement through the building to access the roof. It sure helps make a job run smooth when you have the cooperation of building personnel!
Roof Type